By playing Mpan'game, the communities are able to identify activities detrimental to the environment and appreciate the interconnectedness of the ecosystems. At the end of each game session, participants are more aware of the wider consequences of their actions and also able to develop and test out appropriate strategies for sustainable use of water resources.
Several communities in the Rwenzori region have played Mpan'game. Existing community/farmer groups, especially those within the Mpanga catchment, were sensitized using this tool. The groups are composed of approximately 30 members and are representative of the upstream, mid and downstream sections of the catchment. After sensitization, communities identified different strategies to curb natural resource degradation. These were ranked and a few piloted for demonstration purposes. For implementation of selected strategies, the club has partnered with different partners like the Flemish partnership for water, VLIR-UOS, PROTOS and other local organisations. These efforts have culminated in a series of achievements such as:
Training and construction of rainwater harvesting tanks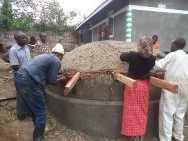 Water for household use is a major demand in most of these communities. The club supports training of communities in using locally available materials to construct rainwater harvesting tanks. For demonstration purposes, a total of 10 underground tanks with capacities ranging from 10,000 to 15,000 liters have been jointly constructed with the communities.
Training in construction of energy saving stoves
In order to reduce cutting down forests, especially on the hilly slopes, the community requested support in acquiring energy saving stoves. Therefore, the Mpan'game club – with the support of Kiima foods, experts in constructing energy saving stoves – continues to train members in using local materials to construct energy saving stoves. The type of stoves constructed are called ceramic cook stoves that save over 80% of the firewood. The training of trainers exercise was conducted per community group and each household made their own stove after the training. From the training, members gained skills in ceramic cook stove construction and it is expected that they will train their fellow neighbors and pass on the new skills.
Support to the Bee keepers Association
Through the Mpan'game, upstream communities identified bee keeping as an environmentally friendly activity. They organised themselves and formed a group of over 60 members that purchased over 16 hectares of land to set up an apiary demonstration unit. The group requested support to do carry out this work. Members were guided on the type of trees to plant for the apiary unit and also supported with 60 bee hives. A total of 1000 caliandra seedlings were purchased and distributed for both planting at the demonstration unit and also farmer land holdings. Other fruit trees as requested by members are also being distributed.