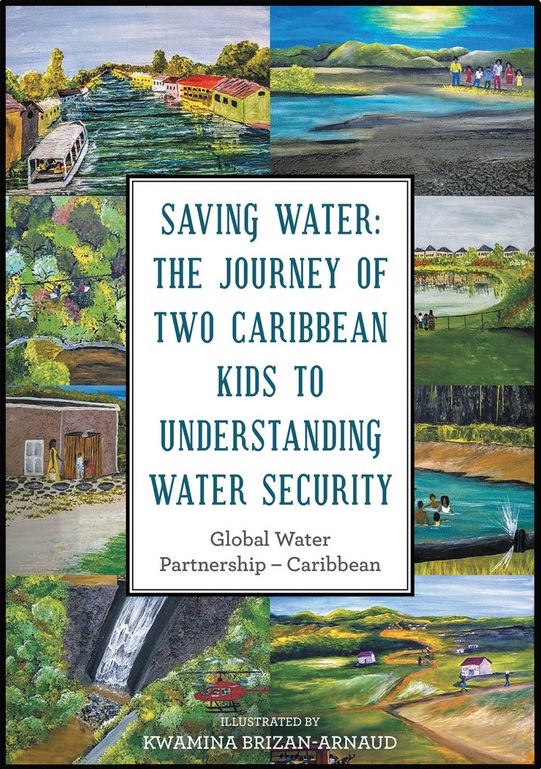 This idea became a reality when GWP-C in March, officially launched its first-ever children's book titled "Saving Water: The Journey of Two Caribbean Kids to Understanding Water Security" –which is currently available on Amazon in both Kindle (E-Book) and Paperback versions here: https://amzn.to/3mHPxJy.
Though the book is generally targeted at kids between the ages of 9 – 12 years old, it takes kids or any reader, on an educational adventure. The book follows the main characters, 10-year old twins Janelle and Joel from Grenada and their parents, as they journey to fifteen (15) Caribbean countries to observe their main water issues and possible solutions, with the twins being empowered to become Water Changemakers. The fifteen (15) Caribbean Community (CARICOM) countries featured in the book include:
GRENADA, CARRIACOU & PETIT MARTINIQUE
TRINIDAD & TOBAGO
GUYANA
SURINAME
BARBADOS
ST. VINCENT & THE GRENADINES
ST. LUCIA
DOMINICA
MONTSERRAT
ANTIGUA AND BARBUDA
ST. KITTS AND NEVIS
HAITI
JAMAICA
BAHAMAS
BELIZE
The book is co-authored by GWP-C and Grenadian author and artist Kwamina Brizan-Arnaud, who also did the brilliant illustrations in the publication.
The book was conceptualised by the GWP-C Secretariat. Additionally, GWP-C's Partners in the 15 Caribbean countries featured in the book much be acknowledged and thanked for their inputs on country specific water issues and recommended solutions. These key inputs were cleverly incorporated into the publication in a way that the target readers could understand.
This knowledge product is the first of its kind for GWP-C and possibly one of the only existing e-books available for Amazon that focuses specifically on Caribbean water security and aimed at bringing about behavioural change in young kids by being innovative in showing them that they can make a difference and play an important role in securing and protecting a precious resources such as water in their respective countries. Through the book, GWP-C hopes it inspires kids in general and its readers to build greater awareness on water security.