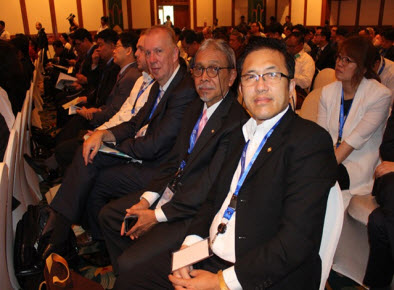 During this three-day General Assembly, the Regional Chair of GWPSEA participated in:
1st Day 24 March 2016:
The Assembly followed the sessions of opening, selection of AWC Board Members, selection of President, Vice-Presidents, General Secretary of AWC, approval of Constitution of Asia Water Council, and special session of water projects and Priority for Implementation: Asia Water Issue Raising with AWC PFIs-Presentation by each Chairperson/Vice-Chairperson of Special Committee and high level panelist for discussion on Development of AWC PFIs for Asia Water Issue Raising in Global Water Community by AWC Founder representatives and WAC Water Project, Pathway to implement- Presentation by each Chairperson/Vice-Chairperson of Special Committee and panel discussion on AWC Water Projects, new pathway to implement solutions for water.
2nd Day 25 March 2016: Closing the Assembly following sessions:
- The Water Business Forum,
- Wrap-Up the results of Board of Council- announcement of the selected President of the AWC, 4 Vice-Presidents, and Secretary General, Approval of selected Water Project (Indonesia, Thailand, Lao PDR and Mongolia) and Priority for Implementation (PFIs) and business plan.
- H.E Minister, Dr. Ir. Basuki Hadimuljono, of Ministry of Public Work and Housing, Indonesia, stated his closing remarks, followed remarks by Dr. Gyewoon Choi, the Elected President of AWC, Elected Vice-Presidents, and Elected General Secretary of the Asia Water Council.
At the end of the Closing Session, the Regional Chair of GWP SEA, H.E Mr. Watt Botkosal, met H.E Minister Dr. Ir. Basuki Hadimuljono, who is the Host Country of GWP SEA, by expressing his gratitude and to Minister for his continuing support to the GWP SEA Secretariat. HE Minister also wishes the Chair of GWPSEA has success in operation of GWPSEA and cooperation among CWPs and the GWP SEA Secretariat. The Regional Chair also met HE Director General of MPWH, Indonesia.
3rd Day 26 March 2016: Technical Tour.
It was visiting the Subak Museum, the traditional agricultural methods and tools. It was observed that good experiences and knowledge of local people still applicable and improved with appropriate technology and best practices. Full participation of local people and stakeholders is a success story to ensure project successfully implemented, its sustainability and benefited equally to all people especially gender balance and religion.
The Lessons learnt
The AWC aims to raise global awareness of Asia's water problems and promote the sustainable development of Asia by resolving regional water issues. AWC has comprehensive Vision and Mission.
- For the Vision:
 Setting Asia's water issues at the top of global agendas
 Promoting Asia's sustainable development by solving water problems through an Asian approach
- For the Mission: Asia's Sustainable Development with the smart Water Management Imitative
There are 7 Special Committees include:
- Strategy and Policy Committee
- Smart Water Management Initiative Committee
- Standardization Committee
- Water-Energy-Food Nexus Committee
- Water-Aid Program Committee
- Water Education Committee
- Knowledge Base and Dissemination.
The Regional Chair of GWP SEA is the member of Strategy and Policy Committee. The GWP SEA Regional Coordinator is the Member of Knowledge Base and Dissemination
During the Assembly, it was very good to learn and get knowledge from speakers the representatives the AWC Founders, presenters about their status of water resources management, issues and challenges, proposed option to address the issues and challenges by their own country and information, concepts, best practices and proposed actions to implement the activities of AWC from all speakers from all special committees of the AWC.

The Chair of GWP SEA has shared views on what GWP will be key member and partner and support each other for promoting, implementation of IWRM, Tran's boundary Dialogue, Climate Change and water security in the SEA as part of Asia that the capacity building is needed as well as financial resources. It was shared to AWC Secretariat through Mr. Seokhoon Ko, Planning Manager, and the electronic files of publication and knowledge resources of GWP. The Regional Chair of GWP SEA also shared his views on status and progress of GWPSEA as ways forward to 2030 with Professor Ki-Hee Ryu, Vice-Chairperson of Special Committee for Strategy and Policy, AWC. Professor Ki-Hee, agreed that the GWP SEA is a key partner who will support many activities with regard to strategy and policy context of water related management issues in SEA countries and he will propose to have some budget to support GWP SEA work on this subject and CWPs of SEA will take roles by cooperation with line agencies concerned.
Ways forward for GWPSEA
The GWPSEA should consider and continue participation in the two special committees the Strategy and policy committee and the Knowledge Base and Dissemination Committee asembers that will contribute significance of both sides and GWP SEA would be gained financial support from AWC for its activities that contribute to AWC needs. Thus GWPSEA Work Plan should include activities with AWC Secretariat and AWC Special Committee collaborative level.
GWPSEA would plan to communicate with AWC Secretariat on what possible to jointly conduct the activities include capacity building activities and case studies on specific water related issues in order to get joint benefits to enhance both integrity of Secretariats.
Next: The AWC 2nd General Assembly will be in July 2016, Singapore.