Lancang-Mekong Join Proposal Development was held in 18-19 December 2018 and organized by the Lancang-Mekong Water Resources Cooperation Center (LMWRCC) with the support of GWP. The event is back to back with the Workshop on Flood Control and Drought Relief Technology of Lancang-Mekong Water Resources Cooperation that was held between 17-20 December in Dali, China.
The workshop was divided into 3 session started from regional shared vision, breaking down the priorities into objectives and strategic activities, as well as roadmap and way forward. During the opening remark, Mr. Dong Yanfei the Deputy Secretary General of LWMRCC briefly explained the background of the agenda. He stated that since the establishment of LMC mechanism, significant progress has been made under the joint efforts of the six-member countries, in technical exchange, capacity building, cooperative projects and joint studies. At the latest Joint Working Group on Water Resources Cooperation of LMC (JWG) meeting, LMWRCC has been required to provide support to the JWG for the implementation of the Five-year Action Plan on Lancang-Mekong Water Resources Cooperation, which has been adopted by the JWG and is waiting for final approval by the six national governments, including collecting ideas on joint projects/activities. Related to the joint project, this workshop was aimed to facilitate the discussion among six country to identify common needs that can be turned into a joint development project. This mechanism was fully appreciated by all the participants since the joint project is going to be developed by themselves.
The facilitation team is led by Dr. Yumiko Yasuda, and consists of GWP representatives from each country, as well as representatives from LMWRCC. She also took the participants to reflect the importance and examples of vision in her presentation on the first day.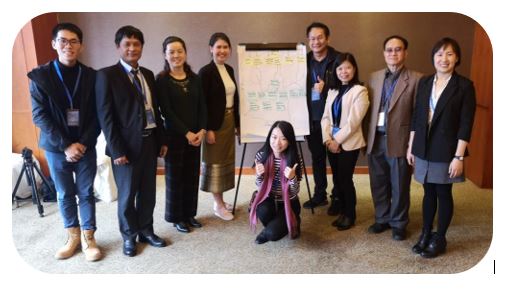 Photo: a group representative during the Focus Group Discussion
The regional shared vision session objective was selected to help participants understand the importance of shared vision in order to apply IWRM in the Lancang-Mekong river basin and to allow the participants in identifying common shared vision and missions. The participants were grouped into eight of each has six different na-tionalities to discuss what they want to see the Lancang-Mekong River in 50 years from now and what are the pathways to reach that point. During the plenary session, 19 shared vision and fol-lowed by mission were constructed which then will be prioritized at the next session,
On the second day of the workshop, the participants were grouped again into 6 to break down the priorities areas that was constructed during the 1st day into objectives and strategic activi-ties. They were asked to discuss the 4 priority areas of which trans-lated into 6 topics: flood, drought, climate change adaptation, en-durable and sustainable infrastructure (including Safety of Dam and other hydraulic facilities), water-food-energy nexus, as well as one basin development strategy and plan. Each group was allocat-ed one of the six topics. From each topic, the gaps and further action (next step) were discussed.
The last session of the workshop was to develop a roadmap and way forward. The participants were asked in country groups on how they can take things forward by considering what they already have in the their national/regional activities, as well as to identify who are the potential partners. The discussion points during this final session among others were: Focal point from each country to follow up on joint project development; What are the require-ments to get country endorsement for the joint project; Potential partners/donors; Relevant projects/ongoing initiatives in each country that links to the proposed project; Any events/ activities they are planning to do in their country, where next gathering can take place (back-to-back or jointly organized); and Suggested mechanism of coordination for 6 countries project development. AW