Proper sanitation is crucial in preventing the spread of infectious diseases, which are more severe to those living in poverty without access to adequate healthcare. Diseases such as diarrhea is the primary cause of child mortality in Indonesia. Typhoid is also a leading threat to the health of Indonesians. Both diarrhea and typhoid are amplified by inadequate sanitation, poor hygiene and limited water supply.

In collaboration with Water Stewardship Indonesia (WSI) through the Safe Water Gardens (SWG) program, across the month of December 2022 - January 2023 the 3 villages in Bintan Regency are committed to achieving access to proper and safe sanitation in their areas.

Following the 1st survey that was held in December 2022 at Busung Village, the team from GWP-SEA and WSI lead the training for the enumerators on the 19 and 20 January 2023. The training was conducted at the 2 other villages, Kuala Sempang and Pengujan. The training attended by the village leaders, village government, and the enumerators (village volunteers) who learned about the importance of access to proper and safe sanitation, which situation considered as access to proper and safe sanitation, and how to carried out e-survey for a household. In addition, on the 20 January, the result of the Busung Village survey which conducted in December 2022 was presented to the village leaders thus that they understand the present situation and to determine the location for SWG's pilot project.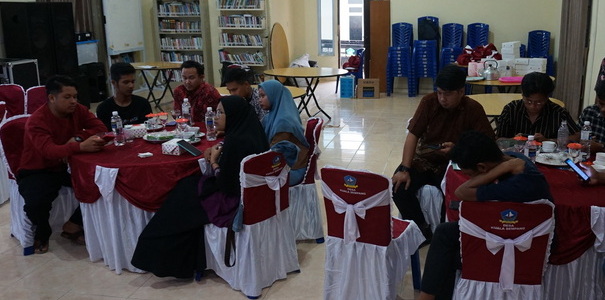 Apart from obtaining information for the purpose of this project, the village government can also utilize the survey result as a basis for decision-making for village planning and budgeting for WASH program, stunting, community welfare improvement, tourism, and so forth.

The Safe Water Gardens program consists of 6 stages consisting of:
Socialization on the SWG program and build Village Government Commitment to Achieve Adequate and Safe Sanitation.
Training and survey of WASH Conditions at the household level electronically.
Pilot households' identification for project locations. The households are determined based on data analysis from the result of the survey.
On-the-job training for making proper and safe SWG sanitation facilities. This on-the-job-training is an approach used to implement SWG program to ensure that the pilot village can be the knowledge center of SWG program that aimed to be replicated to other villages in Bintan Regency and Indonesia.
Scaling-up SWG Program by the Village Government. Replication of the SWG program will be conducted independently by the Village Government in village areas where sanitation conditions are inadequate and unsafe based on previous survey data.
Monitoring and Evaluation.
The progress of the SWG program is currently at the stage of determining the households of the pilot project in these three villages. Once the determined, the "On the Job Training ( OJT )" for SWG physical or infrastructure implementation can be started together with the community (AW, FW, CAN).