this article posted in Tribun-Bali.com with title 7 Countries in Southeast Asia Learn about Integrated Water Resources Management Systems at Tukad Bindu Denpasar , https://bali.tribunnews.com/2023/10/10/7-negara-di-asia-tenggara-belajar-sistem-pengelolaan-sumber-daya-air-terpadu-di-tukad-bindu-denpasar.
Writer: Putu Supartika | Editor: Ida Ayu Suryantini Putri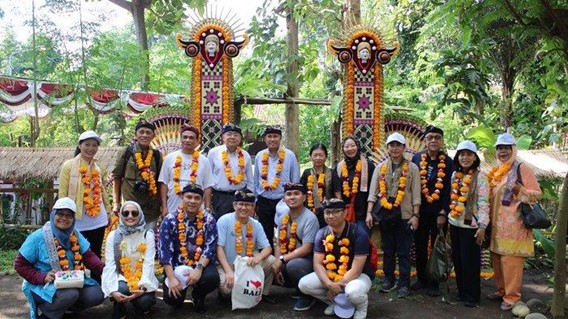 They came to learn water resource management on Monday 9 October 2023. This delegation came from 7 countries including Laos, Malaysia, Vietnam, Philippines, Cambodia, Thailand and Indonesia.
Their arrival was led by the Regional Coordinator of GWP-SEA (Global Water Partnership Southeast Asia), Fany Wedahuditama.
Once arrived, they immediately walked along the riverside the Tukad Bindu area, and held discussions on river management with Tukad Bindu managers who are members of the River Care Community (KPS).
"In 2020 - 2022, GWP-SEA together with Country Water Partnerships (CWPS) from Cambodia, Indonesia, Laos, Malaysia, the Philippines, Thailand and Vietnam have worked together to ensure the adoption and implementation of Integrated Water Resources Management by identifying the problems. For this reason, "On this good opportunity, we intend to study how the Tukad Bindu river care community do their work," said Fany during the visit.
Members of the GWP-SEA Steering Committee are very enthusiastic about learning about the implementation of integrated natural resource management at the community level. Thus, GWP-SEA can develop a program from this site visit or incorporate into a program for the 2024 World Water Forum.
Executive Director of the Indonesian Water Partnership, Dr Mochammad Amron, hopes that the delegations could learn and be adopted by each country. "Of course there is a lot of things that can be learned, adopted and developed later regarding the well-managed Tukad Bindu area. For this reason, the delegation can also provide suggestions that are needed to develop this area in the future," said Amron.
The coach and founder of KPS Tukad Bindu , I Gusti Rai Ari Temaja or Gung Nik, explained that clean rivers have always been synonymous with activities to clean the flow along the river. So, protecting rivers is not limited to efforts to change mindset and mentality.
"Because apart from natural factors, humans themselves must also support the efforts to preserve the local wisdom which views rivers as the main part of community life, one of which is through mutual cooperation between people and groups. In this case, the Denpasar City Government also really provides support to us so that the management of Tukad Bindu can be going well," he said. (*)