In order to promote regional initiatives striving to make the rural population more resilient to negative effects of climate change, the Austrian Development Agency in Uganda supports various programmes on water supply and climate change in East Africa, among which is the "Water, Climate and Development Programme in Africa- WACDEP-G" implemented by Global Water Partnership Eastern Africa, while paying particular attention to a comprehensive and integrated gender approach.
The Austrian Embassy Development Cooperation in Uganda visited GWPEA secretariat hosted by the Nile Basin Initiative, to discuss the negative effects of climate change on access to water and how the region can attract more climate finance. Led by the Head of Office, Dr Roswitha Kremser, the delegation acknowledged the progress that the WACDEP-G project has made in mainstreaming gender equality and women's rights in the issues of climate change.
"WACDEP-G is a gender marker II project that has made tremendous steps in contributing towards the political vision of the Austrian Ministry of Foreign Affairs towards realization of mainstreaming gender equality and the rights of women. I thank GWPEA for the continuous engagements in this important SDG, as women bear the brunt of water scarcity", said Dr. Kremser. She recognized the interventions which GWPEA has made in implementing the project amidst the challenges of COVID-19 pandemic. She also appreciated the commitment towards the partnership in implementing the project towards greater investments in climate change. As the mid-term review approaches, Dr. Kremser emphasized the need to demonstrate tangible results in order to make a case for the continued support and funding of the next phase of the WACDEP-G program.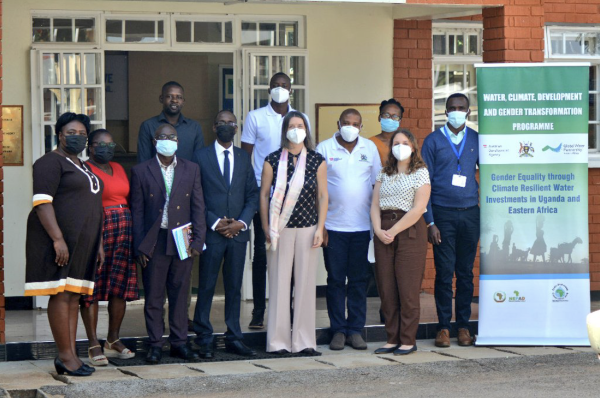 Dr Kremser then met with the Executive Director of Nile Basin Initiative, Eng. Sylvester Matemu on probable funding initiatives to protect water catchment areas, improve water quality management and increase rural water supply in Uganda. She planted a tree as a sign of conserving the environment, and as the it is the norm at NBI.
GWP has been the ADA's long-standing partner since 2011 through several project phases. The priority countries of Austrian Development Cooperation in East Africa are Ethiopia and Uganda.