Water Investment to the Last Km
GWP China worked with GWP China Shaanxi Provincial WP, the Research Office of Shaanxi Provincial People's Congress and Shaanxi Provincial Water Resources Department to implement the water investment programme in Shaanxi Province from 2014 to 2015. It has developed working progress into details. It was named as "the last Km", which refers to the full completion of water projects invested by the national/provincial budgets for better benefits of the water projects in rural areas. Completing the "last Km" can reflect the publicity, fairness, response and effectiveness of policies.
Water Coordinative Management Between Provinces
She County of Hebei Province and Linzhou County of Henan Province are located in the upper reach of their common river—Zhang River that is a transboundary river and its upper reach crosses Hebei Province, Henan Province and Shanxi Province. The on-site survey packages the measures that have been taken dealing with the challenges of water shortage they faced due to climate change, including water use conflict, integrated use of different water resources and harmonious development between water resources and local eco-society.
Raised the Voice of GWP China
Prof. Wang Hao, Standing Vice Chair of GWP China was invited to the "2015 Boao Forum for Asia" as the distinguished professional and addressed to the side event "Water Security and Soil Contamination" on March 28, 2015. Mr. Xi Jinping, the President of China, met Prof. Wang Hao and other renowned professionals at the Forum.
Acting on the Stage of the 2015 World Water Forum
GWP China co-hosted three thematic sessions under the Asia-Pacific Water Forum (APWF) on IWRM, Water and Food Security as well as Water and Cities at the 7th World Water Forum (WWF 7) that was opened on April 12, 2015 in Daegu and Gyeongbuk, Republic of Korea. This time GWP China Delegation was more involved in the sessions by means of delivering case studies of China by the participants under themes.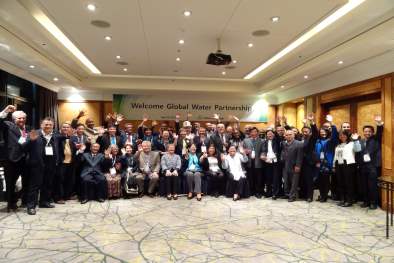 Regional Network With Professional Press
Prof. Wang Hao, Standing Vice Chair of GWP China Region, accompanying with GWP China Regional Secretariat staff, met Dr. Tang Xinhua, President of China Water and Power Press (CWPP) and his colleagues, on July 27, 2015, in Beijing. Dr. Tang expressed his willingness of developing interactive activities with GWP China. After the discussion, the two parties agreed to sign a MOU to develop a strategic coordination between GWP China and CWPP.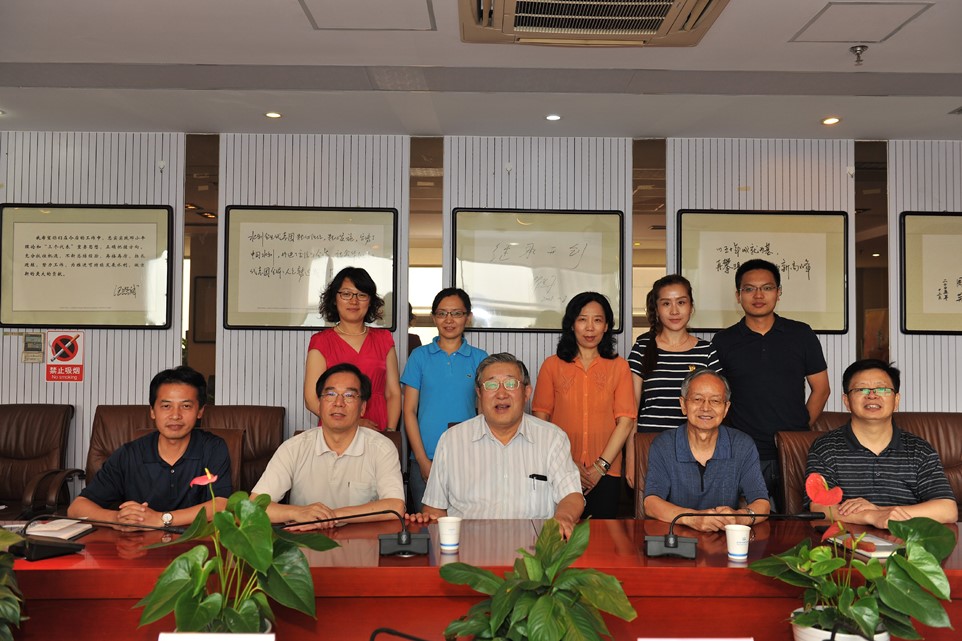 South-South Cooperation in Asia
The "Regional Workshop on South-South Cooperation in Flood Management" was jointly organized by GWP China and GWPO, from December 14 to 16, 2015, in Guangdong, China. With 47 participants from 18 countries , the event was supported by the Ministry of Water Resources (MWR), P.R. China, Research Center on Flood and Drought Disaster Reduction (CDR), International Association for Hydro-Environment Engineering and Research (IAHR), WMO/GWP Associated Programme on Flood Management (APFM), Regional Water Partnerships of Central Asia and Caucasus, China, South Asia and South-East Asia, Typhoon Committee Secretariat, World Wildlife Fund China, Asian Development Bank, Asia-Pacific Water Forum, and etc.