"One Belt One Road" (OBOR) would help promote the economic prosperity of the countries along the Belt and Road and regional economic cooperation, strengthen exchanges and mutual learning between different civilizations, and promote world peace and development. It is a great undertaking that will benefit people around the world.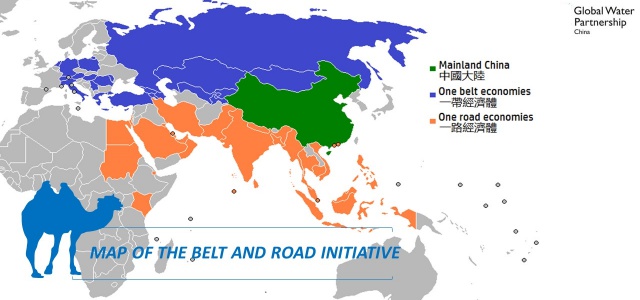 OBOR runs through the continents of Asia, Europe and Africa, connecting the vibrant East Asia economic circle at one end and developed European economic circle at the other, and encompassing countries with huge potential for economic development.
The red line refers to the Silk Road Economic Belt which focuses on bringing together China, Central Asia, Russia and Europe (the Baltic); linking China with the Persian Gulf and the Mediterranean Sea through Central Asia and West Asia; and connecting China with Southeast Asia, South Asia and the Indian Ocean.
On land, the Initiative will focus on jointly building a new Eurasian Land Bridge and developing China-Mongolia-Russia, China-Central Asia-West Asia and China-Indochina Peninsula economic corridors by taking advantage of international transport routes, relying on core cities along the Belt and Road and using key economic industrial parks as cooperation platforms.
The dark blue line shows the 21st-Century Maritime Silk Road is designed to go from China's coast to Europe through the South China Sea and the Indian Ocean in one route, and from China's coast through the South China Sea to the South Pacific in the other.
At sea, the Initiative will focus on jointly building smooth, secure and efficient transport routes connecting major sea ports along the Belt and Road. The China-Pakistan Economic Corridor and the Bangladesh-China-India-Myanmar Economic Corridor are closely related to the Belt and Road Initiative, and therefore require closer cooperation and greater progress.
It covers more than 100 countries in Asia, Europe, Africa, North America and Oceania, estimating 64% of the world's population and30% of the global GDP.
OBOR is more "global" in the sense of engaging the "least developing countries" (LDCs) and of bridging the gap between the East and West, between the developed and developing countries, and therefore can map out an alternative route to reshaping the order of global communication with little resort to economic, cultural or ideological warfare. It focuses upon the concept of empowering the LDCs on the basis of infrastructure development. As the name of the OBOR aptly suggests, infrastructure, as reflected in the potent metaphor of "belt" and "road", remains crucial to any significant agenda for human development. As the Chinese saying goes, "to get rich first, one should build a railroad; to get rich fast, one should construct a speedway; to get rich overnight, one should surf the Internet (i.e. information highway)."
It promotes policy coordination, facilities connectivity, unimpeded trade, financial integration and people-to-people bonds as their five major goals.
First, policy coordination is an important guarantee for implementing the Initiative. We should promote intergovernmental cooperation, expand shared interests, enhance mutual political trust. Countries along the Belt and Road may fully coordinate their economic development strategies and policies, work out plans and measures for regional cooperation, negotiate to solve cooperation-related issues, and jointly provide policy support for the implementation of practical cooperation and large-scale projects.
Second, unimpeded trade, steps will be taken to resolve investment and trade facilitation issues, reduce investment and trade barriers, lower trade and investment costs, as well as to promote regional economic integration. We should make innovations in our forms of trade, and develop cross-border e-commerce and other modern business models. Efforts will also be made to broaden the scope of trade, propel trade development through investment, and strengthen co-operation in the industry chain with all related countries.
Third, facilities connectivity is a priority area for implementing the Initiative.
In accordance with the existing economic foundation and condition, and the pre-conditions of our cooperation, our efforts must first be put to energy resources, the transportation grid, electricity systems, communications networks, other such basic infrastructure platforms, and the networking together of such platforms. There is a saying in China, "to develop wealth, you have to first build roads". The connectivity of infrastructure facilities, including railways, highways, air routes, telecommunications, oil and natural gas pipelines and ports, will also be promoted. The development corridor's economy can only prosper when human resources, logistics and economic flow have all been brought on-line and integrated. This will form part of a move to establish an infrastructure network connecting various Asian sub-regions with other parts of Asia, Europe and Africa.
Fourth, financial integration is an important underpinning for implementing the Belt and Road Initiative. We should deepen financial cooperation, and make more efforts in building a currency stability system, investment and financing system and credit information system in Asia. China has set up a $40 billion Silk Road Fund that experts believe will open for investment in the near future. The focus will be on the construction of roads, railways, ports and airports across Central Asia and South Asia. We should expand the scope and scale of bilateral currency swap and settlement with other countries along the Belt and Road, open and develop the bond market in Asia, make joint efforts to establish the Asian Infrastructure Investment Bank and BRICS New Development Bank, conduct negotiation among related parties on establishing Shanghai Cooperation Organization (SCO) financing institution, and set up and put into operation the Silk Road Fund as early as possible. We should strengthen practical cooperation of China-ASEAN Interbank Association and SCO Interbank Association, and carry out multilateral financial cooperation in the form of syndicated loans and bank credit. The implementation of "One Belt and One Road" stratgy requires a large number of investment from financial institutions, including AIIB.
Last and the most crucial, people-to-people bond provides the public support for implementing the Initiative. We should carry forward the spirit of friendly cooperation of the Silk Road by promoting extensive cultural and academic exchanges, personnel exchanges and cooperation, media cooperation, youth and women exchanges and volunteer services, so as to win public support for deepening bilateral and multilateral cooperation. We should send more students to each other's countries, and promote cooperation in jointly running schools. We should also increase personnel exchange and cooperation between related countries.
GWP network has 65 countries overlapping with OBOR and connecting GWP Regional Partnerships in Africa, Asia, Europe, and Latin America. From a mutuality standpoint, the GWP Strategy, same as OBOR, implements a combination of the national development strategies and promotes initiatives as the 2030 Agenda, the Asia-Europe Connectivity Initiative, etc. Regarding preservation, the pursuit of water security world onward sustainable development of people and nature would involve generations. Multiple stakeholders (MPS) play a vital role in proceeding the world secured, healthy, agreeable and sustainable. MPS can contribute into both hard and soft parts of all countries on OBOR.
GWP China expects all stakeholders or partners to be a part of MPS to jointly work towards the final target of the Belt and Road Initiative. The countries are initiators and the Chinese Government plays the role of facilitator. GWP China, together with other regions, dedicates to remaining a MPS collaboration that would benefit our own country, our neighbour nations and then the region and finally the world.