Speaking on behalf of the youth at the Innovate 4 Water forum, Global Water Partnership Southern Africa (GWPSA) Coordinator: Youth, Innovation, Jobs and Industrialisation, who is also the Managing Director of Water Hygiene Convenience (WHC), Mr Paseka Lesolang reiterated the youths' need for capacity development and mentorship in planning and implementing their projects.
"The youth need technical support and mentoring to develop bankable projects. Most importantly, they need experiential learning avenues not only to enhance the pragmatism of their projects but to increase their confidence and self-esteem to be impactful in their endeavours", he said. He added that the youth also need funders for their projects, specifically Impact Investors who share the youth's passion and understand their mission.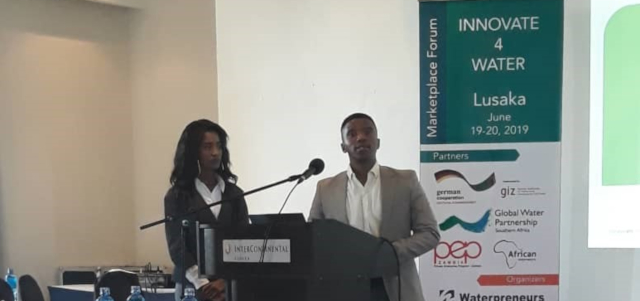 Inaugurated in June 2017, in Geneva, the Innovate 4 Water is a series of marketplace forums, held with the objective of aiding in closing the Sustainable Development Goal (SDG) 6 gap through focusing on scaling-up the impact of smart, mature, for-profit social enterprises/solutions providers, and by providing those enterprises with opportunities to network not only with impact investors, but also with a range of organisations such as water utilities, government agencies, and development banks. Other previous events have been held in Nairobi, Zug, Abuja, and Kisumu.
This year's Innovate 4 Water forum was held in Zambia under the theme "Unlocking capital to support the growth of small and medium scale WASH entrepreneurs in Zambia". It was Organized by Waterpreneurs from Switzerland and 4IP Group in Switzerland and Zambia with support from African Investments, GWPSA and the Deutsche Gesellschaft für Internationale Zusammenarbeit (GIZ) with delegated authority from Bundesministerium für wirtschaftliche Zusammenarbeit und Entwicklung (BMZ) (Federal Ministry for Economic Cooperation and Development), Germany. It was held in Lusaka Zambia on 19-20 June 2019. It brought together diverse stakeholders from across the water and sanitation and broader water sectors – entrepreneurs / solutions providers, utilities, investors, large and small companies, Information and communications technology (ICT) companies, agribusiness organisations, non-governmental organisations, United Nations (UN) agencies, and incubators – all of whom are contributing towards achieving SDG 6. GWPSA was represented by Paseka Lesolang and members of the Zambia Water Partnership.
GWPSA, together with African Union (AU), Youth Club took this opportunity to present the recently launched the Southern Africa Youth WEF Innovation Network (SAYWIN), which was well-received by prospect entities and individuals that want to partner with and empower the youth upon this quest.
The theme and objective of the Innovate 4 Water were in sync with the GWPO Strategy 2020-2025, which is anchored in 3 global priorities and 3 cross-cutting areas. The SDGs, the imperative to support climate adaptation, and efforts to advance transboundary cooperation are the 3 programme areas that GWP will implement its strategy through, while gender, youth mobilisation, and public sector engagement cutting across tall programming.