Participants (quorum 100%):
Regional Council Members: Arevik Hovsepyan, Nino Chkhobadze, Temur Osmanov, Nariman Kipshakbayev, Kasiet Musabaeva, Yarash Pulatov, Guldjamal Nurmukhamedova, Dinara Ziganshina (trusted by Mansur Abduraimov), Davaa Basandorj.
Regional Secretariat: Vadim Sokolov, Ilhom Babaev.
GWPO: Natalia Alekseeva.
Invited participants: Eduard Mesropyan, Georgi Dzamukashvili, Panakh Abdullaev, Garma Dolgorsuren, Abdibay Djailoobaev, Kurulay Yakhiyaeva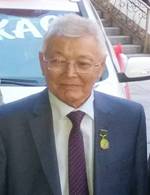 In the begging of the meeting the all participants congratulated Prof. Kipshakbaev (President of CWP-Kazakhstan) with his 80-years anniversary, which he celebrated on 27 May 2014.
Meeting Agenda
Brief on outcomes of the CP meeting in Trinidad
Preparations towards 7th WWF
Reporting and finance
Next meeting
1. Mrs. Nino Chkhobadze, GWP CACENA Chair, provided brief info about outcomes of the regional days and CP meeting held in Trinidad on 23-29 June 2014. The key issues discussed during those event were: GWP's contribution to the National adaptation plans on climate change, result of activities in 2012 and 2013, and strategic planning - new GWP Strategy up to 2020. The key messages – there is need for more close cooperation with governments and more shift from advocacy of IWRM to practical ways towards water security.
Natalia Alekseeva, Network Officer from GWPO informed participants about opening the new unit in the Global Secretariat addressing to support and coordination project activities at the global and regional levels. The main goal of this unit is to increase fundraising capacities of the regions.
2. Dr. Vadim Sokolov, GWP CACENA Regional Coordinator, informed participant about outputs of the second consultation meeting towards 7th WWF held in February 2014 in Korea and APWF kick-off meeting held in June in Singapore. The full picture of the on-going regional preparatory process was presented and discussed.
The APWF Governing Council approved six priority thematic slots for the Asia-Pacific region, for which there will be organized preparatory process for the sessions at the 7th World Water Forum in April 2015 in Korea. For each of the six priority thematic slots there were agreed coordinators to lead the preparatory process.
The list of priority thematic slots and coordinators listed in the following table:
Priority theme/ session at the 7th WWF

Lead organization from APWF

Coordinator from GWP CACENA

Slot 1 – Water and Cities

UNESCO Office Jakarta, Mr. Hubert Gijen

CWP-Mongolia

Dr., Mr. Davaa Basandorj

Slot 2 – Water and Green Growth

UN ESCAP

Mrs., Dr. Salmah Zakaria

K-Water

Mr. Taesun Shin

CWP-Kazakhstan

Prof., Mr. Nariman Kipshakbaev

Slot 3 – Water for Food Security

FAO Regional office AP

Mr. Thierry Facon

GWP CACENA

Dr. Vadim Sokolov

Slot 4 – Water Related Disasters

ICIMOD

Mr. Ramesh Vaidya

GWP CACENA

Dr. Vadim Sokolov

Slot 5 – IWRM

NARBO

Mr. Keizrul Bin Abdullah

GWP CACENA

Dr. Vadim Sokolov

Slot 6 – Rural Water Supply and Sanitation

International Water Center

Mr. Mark Pascoe

APWF Synthesis session

APWF

Mr. Ravi Narayanan

JWF

Mrs. Shinobu Fukumoto

GWP CACENA

Dr. Vadim Sokolov
Besides the six regional sessions on priority thematic slots, the APWF will hold summarizing session at the Forum - which will be given to the synthesis of the main conclusions and recommendations/messages for the post 2015 period for the entire Asia-Pacific region.
The APWF Governing Council agreed role of GWP CACENA as a coordinator for Central Asia and Caucasus sub-regional process. The sub-regional processes should not only make a contribution to the priority thematic slots that are common to the region, but also to develop the synthesis of specific problems for the sub-region, and suggest solutions/messages on those.
GWP CACENA RC members noted the importance to attract attention to the specific problems of CACENA from the world water society during 7th WWF. It was suggested to ask GWP CACENA Secretariat to make an application for organization of sub-regional side event within the Asia-Pacific regional process. The main focus during this side-event could be addressed to GWP CACENA's rich experiences with knowledge dissemination on wide implementation of IWRM as a tool for water security and demonstration of variety and specifics from regional countries.
3. Mr. Ilhom Babaev, Financial Administrator of GWP CACENA informed participants about progress and current status of finance for GWP CACENA work programs during 2014. Ilhom requested CWP's Coordinators to increase financial reporting discipline. There was reminder to all CWPs about necessity to provide audit in the end of the 2014 at country level, and in this regard to keep proper level of accounting accuracy and transparency is a key for financial administration provided by all CWPs.
4. The Regional Council members agreed to organize the next meeting that will be held in mid October (in Armenia or Georgia - tbc). The meeting should be addressed to approval of work plan and budget for 2015.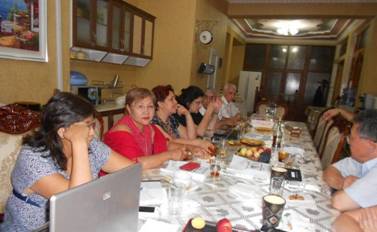 Working moments of the GWP CACENA Regional Council meeting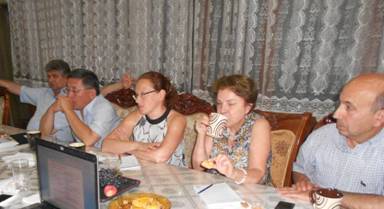 Working moments of the GWP CACENA Regional Council meeting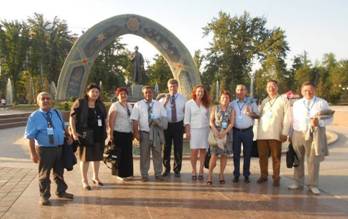 GWP CACENA delegates in the Central park of Dushanbe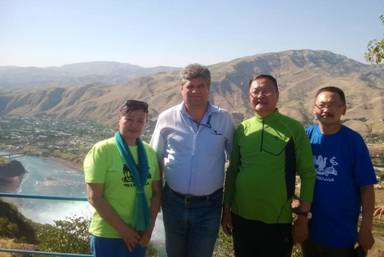 Mongolian partners first time paid visit to Tajikisitan: from left – Mrs. Dolgorsuren - Director of the Tuul river Basin, Dr. Sokolov, GWP CACENA Regional Coordinator,
Prof. Basandorj, CWP-Mongolia Coordinator, Mr. Batbayar, IWRM Mongolia project manager