This was an afternoon dedicated to activities supporting youth-led projects and social businesses. Entitled "Partnering for Innovation Generation #YouthforWaterandClimate", it was organised together with the International Secretariat for Water/Secrétariat International de l'eau (SIE), Young Water Solutions, and CEWAS.
These were the activities (click to enlarge):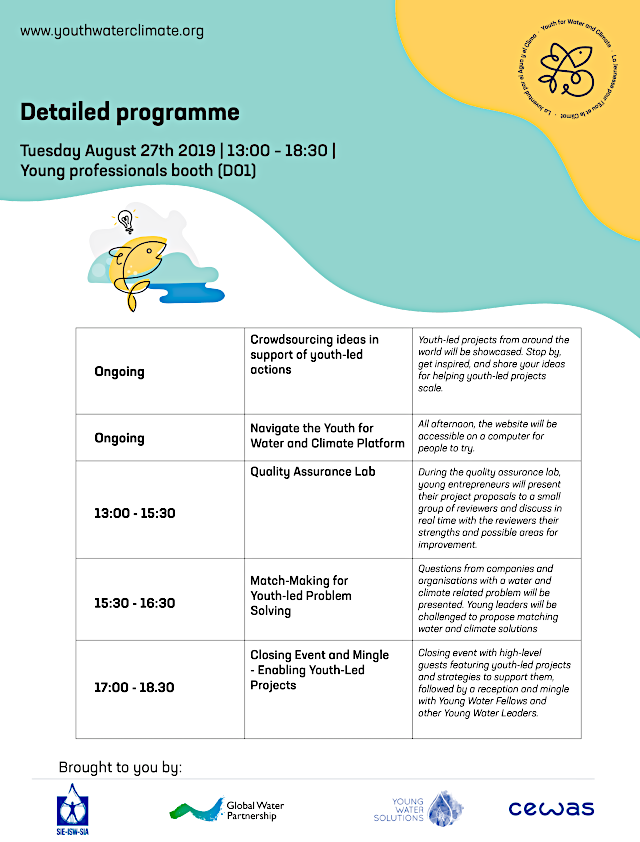 During the Quality Assurance Labs, young entrepreneurs gathered constructive advice and comments from experts and reviewers in order to improve and scale up their projects.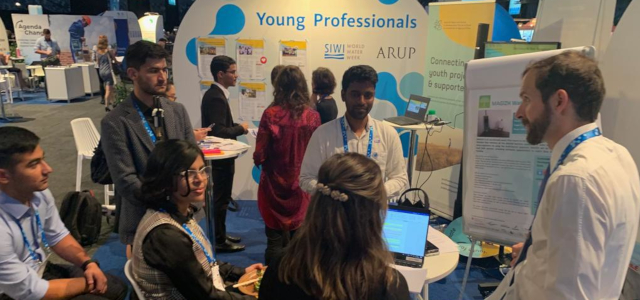 The "Match-Making for Youth-led Problem Solving" activity was an opportunity for companies and organisations with a water and climate related problem to challenge young leaders to propose solutions.
The afternoon also provided an opportunity to showcase a new Call for Proposals page on the YWC platform, where we are currently featuring the GWP-Caribbean's Water Entrepreneurs Shark Tank competition! Open for youth between 18-34 years old. Deadline: 15 October 2019.
One of the highlights of the afternoon was the Young Water Fellows pitch, which was also broadcast live on Facebook (watch it here).
Johan Gély, from the Swiss Development and Cooperation Agency (SDC) and Michael Kropac, CEWAS spoke on the importance of mobilizing resources in support of youth-led solutions. The activities were summarized by Sharif Mahmudov, National Represenative for Central Asian Youth 4 Water.
Closing remarks came from ISW's Manuel Fulchiron, ISW-SIE Governing Board, who emphasized three words: hope, inspiration, and courage. And GWP's Chair Howard Bamsey finished by saying "you have the best ideas when you are younger – they are the people that should be given the capacity to take action and implement those ideas".
Facilitation was provided by Natalija Vojno of ISW-SIE and Rianna Gonzales of GWP.
Other youth activities that GWP was involved in during World Water Week 2019 included: "Make waves with the World Youth Parliament for Water" , Join the Youth for the World Water Forum "Dakar 2021 Showcase, Advocating Youth Participation in Water Operations in Asia and the Pacific, and How can Intergenerational Dialogue Facilitate Youth Inclusion in Decision Making.