Background
To accelerate a change in the way governments, societies, and the business sector use and manage water, UN Secretary-General Ban Ki-moon and World Bank Group President Jim Yong Kim convened a High Level Panel on Water (HLPW) in January 2016. The HLPW aims to provide leadership to champion a comprehensive, inclusive, and collaborative way of developing and managing water resources, and improving water and sanitation related services. The panel members were Heads of State from Australia, Bangladesh, Hungary, Jordan, Mauritius (co-chair), Mexico (co-chair), Netherlands, Peru, Senegal, South Africa, and Tajikistan.
A concept note, "Valuing Water: A Conceptual Framework for Making Better Decisions Impacting Water", was prepared in February 2020 by the Valuing Water Initiative. The document aims to operationalise the 5 Valuing Water Principles and use this Valuing Water lens to bring systemic change to the water sector. The document draws on a wide range of key reports and documents prepared in the past 10-15 years, including a set of position papers on valuing the cultural, spiritual, and environmental dimensions of water as the basis for ecological and human well-being.
5 Valuing Water Principles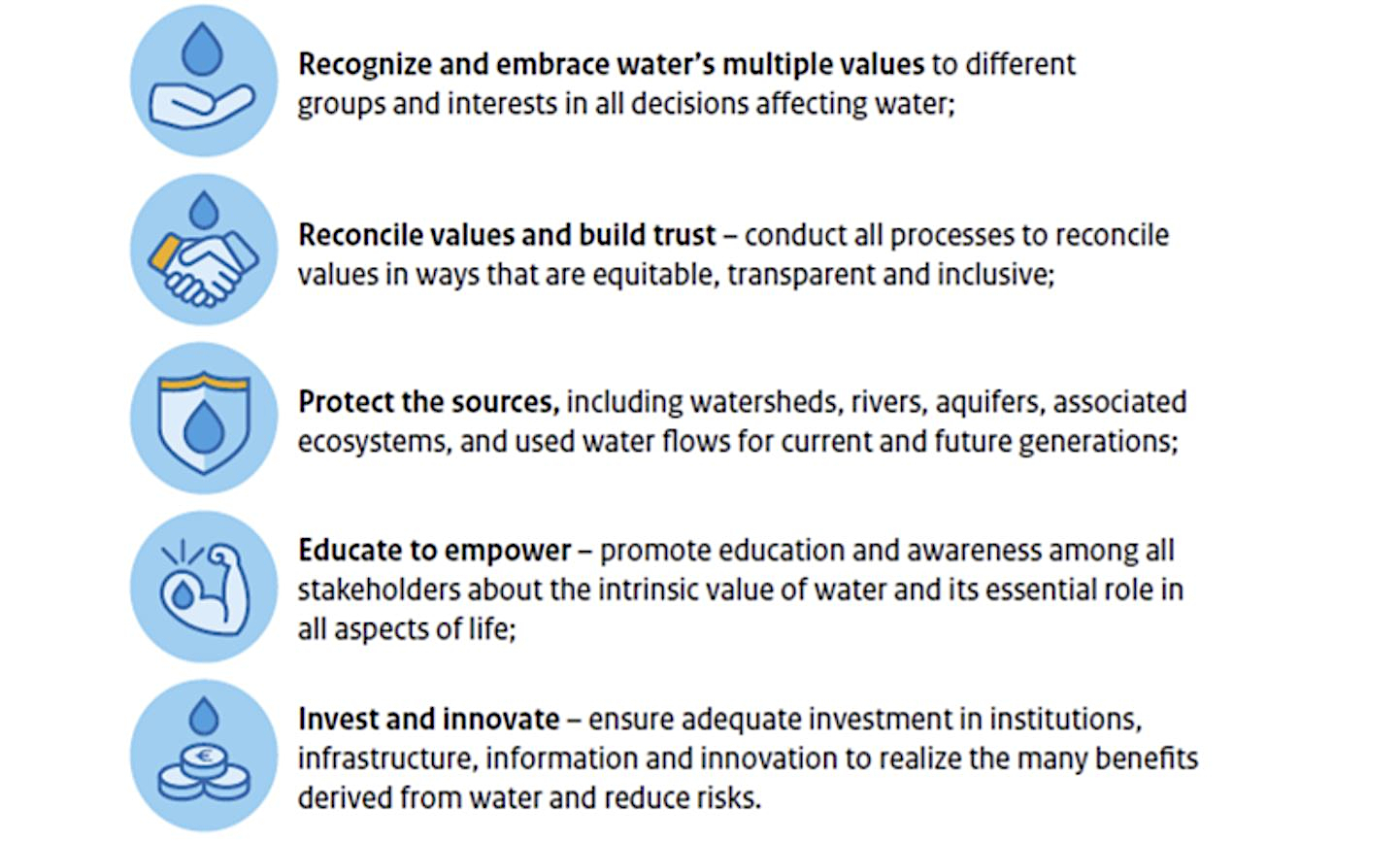 Purpose
Through its Valuing Water portfolio, GWP supports the multiple values approach and the transparent incorporation of these values into decision-making processes. GWP works in close collaboration with global partners such as the Valuing Water Initiative and mandated institutions to reveal the multiple values surrounding water and use its social, cultural, economic, and ecological contributions as an entry point for dialogues on how to improve water governance.
Scope
Regional Consultations: In 2017, GWP organised a series of Valuing Water regional consultations in South Africa, Tajikistan, Mexico, Bangladesh and Peru. The purpose was to obtain views from a wide array of regional and country level stakeholders on the proposals from the HLPW on the Valuing Water preamble and principles. The consultations built awareness and examined the regional/country level relevance of global perspectives, and provided inputs, options and recommendations that would enhance the implementation of the HLPW resolutions.
Regional and Global Events: GWP was one of the organising partners of the World Water Day 2021 campaign on Valuing Water. It organised a series of webinars and events in collaboration with the VWI, the World Bank, and UNDP, including a regional webinar in South Asia on World Water Day 2021 to initiate a dialogue on the sharing of experiences and lessons learnt on applications of the Valuing Water principles at country level.
Knowledge Products: GWP contributed to the UN World Water Development Report 2021 on Valuing Water, providing a conceptual framework on "Enabling multi-value approaches in water governance" by co-authoring that chapter with UNDP. To celebrate World Water Day 2021, GWP launched a multimedia publication on Valuing Water where Water ChangeMakers shared their stories about the way they made smart decisions that reflect the multiple values of water – from the mountains of Peru to the plains of Tanzania.
Influencing Decision Makers: GWP through the Tanzania Country Water Partnership is supporting the Ministry of Water in Tanzania establish the value of water to the national economy. The initiative is feeding into the multi-stakeholder forum on water resources management, which aims to build consensus around the need to invest and strengthen water governance in Tanzania. GWP also developed a Valuing Water survey exercise that aims to reveal how personal and collective values can influence the way we make trade-offs and decisions, including those we make in the water sector. This exercise demonstrates how important it is to consider the "value perspective" as part of the IWRM action planning processes. It is being piloted as part of SDG 6.5.1 consultations supported by GWP in collaboration with UNEP-DHI and Cap-Net, as part of efforts to make the values underlying water-related decisions more explicit, leading to better decisions impacting water. The Valuing Water exercise is also part of our GWP Toolbox IWRM Action Hub Learning Labs.
Photo by Mostphotos.com/Rickard Stenberg