The discussion, which was broadcast live on GWP's Facebook page, was on the topic "Youth engagement in the water sector: Moving from advocate to influencer".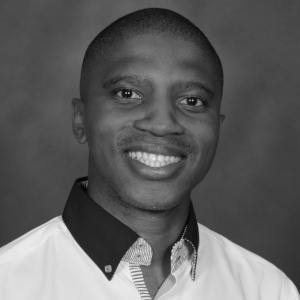 Paseka Lesolang is responsible for youth, innovation, jobs and industrialisation in the GWP Southern Africa office in Pretoria, South Africa. He has a commerce background and he is recognised as a multinational award-winning innovator and high impact entrepreneur. His most prominent entrepreneurial venture to date is WHC (Water Hygiene Convenience), which is a water management solutions company that is passionate about the preservation of the most precious resource – water. To date WHC has created over 25 youth jobs and since 2016 it has saved over 70 mega liters of water through its innovative Water Resource Management approaches.
Paseka shares the story of how it all started when he noticed that his grandmother had a leaking toilet.
"Toilets waste anything between 30-700 liters of water per day. That's the equivalent of seven bathtubs full of water. This was added to my grandmother's water bill," says Paseka.
Due to economic restraints, they couldn't afford to get a plumber to fix the problem, and Paseka had to come up with his own solution. He did some online and offline research, and this ended with an invention of his own to stop leaking toilets. That's how he started his company - in his grandmother's garage.
A number of years later, Paseka has experienced many challenges and learned many lessons. But he says that throughout it all, the one single value that worked in his favour and always allowed him to move forward, was that he knows himself well.
"This might not be a skill on its own, but the mere fact that I had self-knowledge - I knew my weaknesses, I knew my strengths, I knew my support system, I knew my shortcomings. I knew what I have, and what I do not. This allowed me to stretch to the next point and I could learn something new - I had no limitations as far as learning, because you never stop learning as an individual," says Paseka.
Watch the full interview