So said Henk Ovink, Special Envoy for Water Affairs of the Kingdom of the Netherlands, in concluding the High-Level Panel (HLP) on 'Valuing, understanding, and managing water resources efficiently', held during the Second International High-Level Conference on the International Decade for Action 'Water for Sustainable Development', 2018-2028, in Dushanbe, Tajikistan, on 7 June. The conference was co-convened by the Government of the Kingdom of the Netherlands, the United Nations Development Programme, and the Global Water Partnership (GWP).
The HLP – co-chaired by Henk Ovink and Howard Bamsey, Chair of GWP – was moderated by Mercedes Castro of AguaLimpia NGO, from Peru. It provided a platform for ten experts from different sectors and parts of the world to share perspectives and increase understanding of how adopting an integrated water resources management (IWRM) approach can be key to having a more accurate valuation of water – which, speakers highlighted, is much broader than just the economics or the financing of water.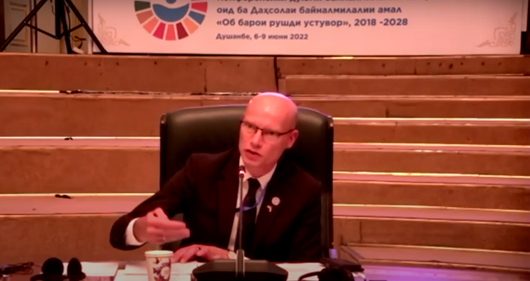 Averting Day Zero
The keynote speaker, Xavier Leflaive, Principal Administrator (water) at the OECD's Environment Directorate, explained how water is both local and global. He stressed that "linkages across geographical scales need to be built from local to global", while also building cross-sectoral networks and coalitions that allow differences in cultures, values, and legal frameworks to be acknowledged. Exemplifying this point, Xanthea Limberg, Councillor, City of Cape Town, explained how – in light of the city's recent drought – the whole of society mobilised to avert the much-feared Day Zero, when its citizens would be left without water. Through these actions, including a series of measures to increase water supply, the city was able to reduce its water consumption by 60 percent, highlighting that scarcity can be a driver of value.
Eric Tardieu, representing the International Water Resources Association and the International Network of Basin Organizations, highlighted that valuing this dialogue between levels of responsibility over water should be part of valuing water itself, while also insisting that water governance has an economic cost which should be made part of permanent supporting structures.
Yon Fernández-de-Larrinoa, from the Food and Agriculture Organization's Indigenous Peoples Unit, highlighted the importance of water in Indigenous peoples' food systems, and the importance of those systems for global food supply. However, Indigenous values need to be factored into such food systems, recognising that the interaction with water and food is often part of Indigenous identities. Doing so explicitly would allow some of the challenges facing food systems to be overcome. Stuart Orr, Practice Lead, Freshwater at the World Wide Fund for Nature agreed, highlighting how many decisions on water are made within other sectors. He acknowledged that incorporating a dynamic understanding of the systems of water and the multiple values around water into decision systems can be challenging, especially given that not all values around water can be put in economic terms.
The need to strengthen political will
In his remarks, Mikio Ishiwatari, Acting Secretary General, Asia-Pacific Water Forum, showcased the outcomes of the recent Asia-Pacific Water Summit. The Summit's declaration, signed by 18 heads of state or government, took IWRM as one of its core principles, and aimed to raise political support for valuing water at the Asia-Pacific level. This is part of efforts to transform society into a quality-oriented one that is resilient, sustainable, and inclusive. In her closing summary as rapporteur of the HLP, Lyazzat Syrlybayeva, Regional Co-coordinator, Central Asia Youth for Water Network, agreed that strengthening political will, together with adequate financing for IWRM, is fundamental if countries are to move beyond business as usual. Achieving this will not only allow the social, spiritual, and environmental values of water to be recognised, but also ensure an appropriate environment for investment in water.
The HLP's co-chair Howard Bamsey mentioned how IWRM can be a tool to support this systems thinking on these complex dynamics. He presented the SDG 6 IWRM Support Programme as a means of assisting countries to follow up on this debate as they look to accelerate implementation of SDG 6.
The outcomes of this HLP were summarised in the declaration of the Dushanbe Conference, which recognised that participants 'strive[d] for transformative water policy based on a better understanding and valuing of water by promoting transparent cross-sectoral cooperation and management'. Finally, the high-level understanding achieved at this HLP will be taken to the 2023 Water Conference, to be held in March in New York, which will be co-hosted by the governments of Tajikistan and the Netherlands.
GWP supports climate action in Dushanbe
In another session, on 8 June, GWP co-organised with its partners a panel discussion on 'Water Resources and Climate Change'. Bamsey stated in his report back to the plenary session, "the session underlined that we cannot solve the climate problem without solving the water problem, and that the reverse is also true."
The keynote intervention from John Matthews, Executive Director of the Alliance for Global Water Adaptation, noted that while COP26 succeeded in bringing water more squarely into the spotlight of climate discussions, much greater resilience must still be built into our water management systems to deal with both known and unknown climate impacts in the future.
Interesting examples of coordinated action to increase resilience were shared from the Small Island Developing State of Saint Lucia, from the Republic of Korea, and from the delta perspective of the Netherlands. Speakers emphasised the critical role of data availability, scientific knowledge sharing, institutional capacity, and access to financing.
The voice of youth sounded strongly through Tove Lexén of the Stockholm International Water Institute. She reminded participants that local knowledge, particularly that of women, youth, and Indigenous peoples, needs to be heard and incorporated into local and practical solutions for climate resilience.
In closing, Mohamed Abdel Aty, Minister of Water Resources and Irrigation of Egypt, host country for COP27, invited participants to continue the conversation at the Cairo Water Week and COP27, which will, like COP26, feature a Water Pavilion and a dedicated Water Day.
GWP served on the International Advisory Committee for the Dushanbe Process, which developed the Final Declaration: From Dushanbe 2022 to New York 2023.